As the weather has turned more autumnal this last week I'm looking forward to having nourishing home-made soup for lunch to fill me up and keep me warm. There's lots of lovely autumn veg to choose from to use for soup and it's a great way to get a couple of portions of veg into your day at lunchtime.
My favourite soup is this basic recipe which you can amend to suit your tastes and what is in season. Don't forget that adding herbs and spices to your cooking increases the nutritional value as well as making them super tasty.
I make a big batch of this that keeps in the fridge for a few days (and freezes well) making easy lunches at home or taken in a flask for school or office lunches.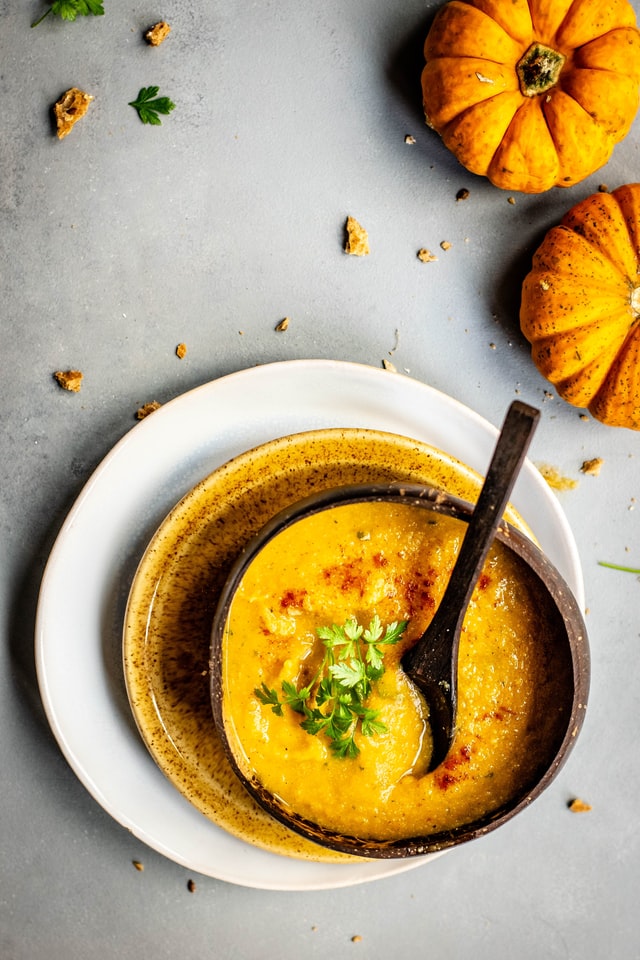 Dice a large onion and 2 sticks of celery and soften in a little oil.  Add crushed garlic, grated ginger or chopped chilli (or all three!).  Add a combination of chopped vegetables: my autumn favourites are butternut squash and sweet potato. Add barely enough boiling water or hot stock to cover the veg.  Simmer for around 20 minutes or until tender.
Add a drained tin of butter beans for added protein and then whizz together with a stick blender. I like my soup to be quite thick but if you prefer a thinner soup then add a little more water/stock. You might also like to add some shredded cooked chicken to up the protein content.
Garnish with chopped herbs (coriander, parsley and chives work well), sprinkle with pumpkin seeds or swirl in some chilli oil or full fat yogurt to serve. Feel free to make it your own by varying the veg and flavourings and get some warming goodness into your lunchtime.
PS. If you are short on time, use pre-chopped veg. Most supermarket do a range of fresh and frozen pre-chopped onion, sweet potato, leeks, butternut squash, carrots, garlic etc that makes this super-speedy to prepare.
Photo by Monika Grabkowska on Unsplash